Hair Foundation Kit
"For all those who don't know about this product, its amazing, I would say its a temporary fix to hairloss… it's a great way to boost your confidence and create fuller edges." Jacqueline - United...
"For all those who don't know about this product, its amazing, I would say its a temporary fix to hairloss… it's a great way to boost your confidence and create fuller edges."
Jacqueline - United Kingdom
The Hair Foundation Kit instantly improves the appearance of thinning and balding hair, allowing you to control the thickness of your hair in seconds. Our Hair Foundation Fibres are made from natural ingredients and have a unique formula that attaches to each hair strand like magnets, this provides a very natural-looking coverage that lasts all day long.
Made From Natural Plant Extracts
Will Not Irritate The Skin Or Scalp
Perfect for Kinky, Coily and Curly Hair
Water and Sweat Resistant
Can Be Removed With Shampoo
Items Included:
Hair Foundation Fibres (12g): Our hair fibres are made from keratin and natural plant extracts. Each fibre is statically charged to bond to your existing hair, making your hair look naturally thicker and fuller.
Fixing Spray (60ml): Our Melon & Kiwi scented Fixing Spray is fast drying and provides a strong-hold, securing the hair fibres to your hair. It smells amazing and provides a natural shine finish with humidity resistance. Use the spray to make your hairstyle last longer.
Applicator Pump: Allows you to apply the Hair Foundation Fibres with more precision and ease. It's perfect to use in thinner and more difficult to reach areas like the crown or your edges. Use the Applicator Pump to evenly apply the hair fibres for a smoother more natural looking coverage.
Edge Perfector: Designed as a guide to ensure the hair fibres are applied in a pattern that replicates your natural hairline. This is especially useful if you have thinning edges or a receding hairline. Additionally, it can prevent the hair fibres from falling onto your forehead or clothing.
Ingredients:
Keratin, Gossypium Herbaceum (Plant Extract), Antistatic Agent, Ammonium Bicarbonate.
Directions:
Step 1 Preparation: Remove the screw cap and sifter from the Hair Foundation Fibre bottle, and place the Applicator Pump onto the bottle twisting downwards.
Step 2 Application: On dry hair, hold the bottle 3-5 inches above the target area. Spray gently over the target area until you achieve your desired look.
Step 3 Style & Finish: For a greater hold, use the Fixing Spray to secure the hair fibres to your hair. Position the bottle approximately 3-5 inches above the target area and apply two short sprays, use the Edge Perfector to cover your forehead while spraying.
It's that easy, say hello to thicker hair instantly!
AVAILABLE IN 5 COLOURS
BEFORE & AFTER - INSTANT RESULTS
Customer Reviews
11/11/2019
Blessing L.
Germany
11/06/2019
Lisa T.
United Kingdom
Confidence booster in a bottle
After baby my hair was sore that I couldn't even touch it. Though my hair was already short it still was short enough to just leave. I decided to shave it off, this when I noticed my real problems. Had a wedding to go to 2 /3 weeks after shaving hair and knew couldn't wear a hat so I finally caved and bought it. Glad I did as this gave me the coverage I need and gave me my confidence back.. Fast forward 2 months and my hair is starting to gain its thickness back not sure if it's down to the fibres or the fact that I am not fussing with it either I am happy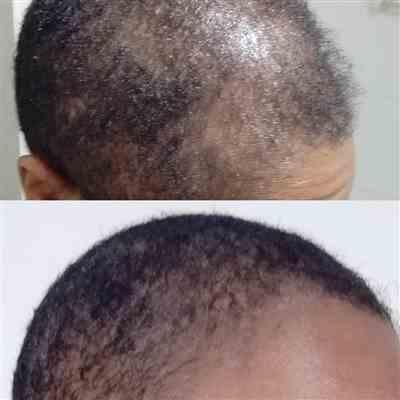 11/05/2019
Nicole J.
United Kingdom
Excellent!
Quick delivery, easy to use, great coverage, increased confidence. Fantastic product! If you have issues with thinning hair, YOU MUST GET THIS PRODUCT! You cant tell its fibres at all, looks like your normal hair. Will continue to purchase
11/04/2019
Paula C.
United Kingdom
Wonder Product!
It was a dream come through, so easy to use and quick. Can't tell my own hair from the fibres. Thanks Ms Hair
10/31/2019
Pauline S.
United Kingdom
I smile
As the songwriter says I just want to be happy......and I am So easy to use as hair edges were thining. Loving the look. Thanks Ms Hair.
10/29/2019
Cathy D.
United Kingdom
Execellent
This item is just fantastic now my edges back again no more thinning edges for me hello full hairline.
10/25/2019
Oluwayemisi E.
United Kingdom
Hair foundation kit
Excellent product. Will definately buy again
10/22/2019
Perside F.
France
My point of view
I like this product, I will recommend it to my friends and family
10/18/2019
Michelle M.
United Kingdom
Amazing
I love this product so much it has literally made me more confident to wear my hair out. For years I have been wearing wigs and weaves and have ruined my hairline. The hair foundation kit is great, it's given me the most natural hairline without blocking my hair follicles allowing my hair to grow back. Love it and recommend that you take that step to free your hair.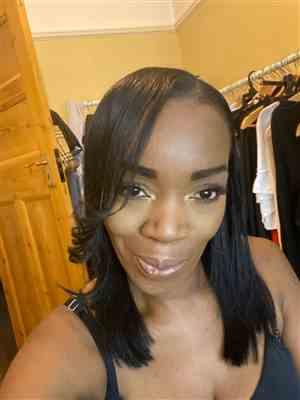 VA
10/18/2019
Victoria A.
Ireland
It stays on with head
It stays on with head sweat
10/18/2019
CBRE L.
United Kingdom
This product is exactly what has been advertised. I'm am so pleased that I have purchased the Foundation Kit and would definitely be buying more products.
Excellent. Couldn't be happier with the outcome.
10/15/2019
Dora N.
Netherlands
MS
amazing, im so veriy happy
10/14/2019
Rose L.
United Kingdom
Wow!
Very easy to use. Absolutely amazed that it covered areas were there was hair loss and looked so natural. Will definitely be buying this product again. Thank you MS Hair for a truly great product.
10/10/2019
Kym E.
United States
Excited about this great product!
Looking forward to using the product with a new birthday hair style! I saw and have heard such rave about the product. I can't wait to try and be sure to share even more feedback!
10/07/2019
Alycia G.
United States
Hair Foundation Kit
It took awhile to receive but eased font satisfied with product. Will absolutely purchase again
10/07/2019
Pandora C.
United Kingdom
My hair
Excellent products, I will certainly buy again, in fact I have already
10/05/2019
Maxine G.
United Kingdom
Have not used yet!
Impressed by package received and will be able to give a more detailed feedback in the future
10/03/2019
Maxine F.
United Kingdom
Great Product
Simple and easy to use kit. Does what it says on the packaging.
10/01/2019
Temilola A.
United Kingdom
Hair foundation kit
It has been very good as it did the job hiding my broken hair line